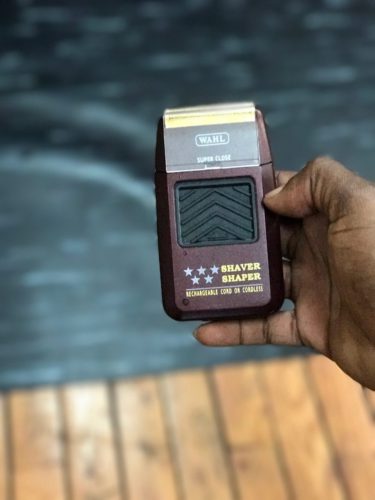 My thoughts about the wahl foil shaver.
Shaving can be a troubling chore! Without the proper education, tools, and technique serious damage to the skin can occur. This article will be my thoughts, and findings on the wahl foil shaver to give you my professional opinion in helping find an electric razor.

price: 59.99-70.00.
Who can use it? Professional stylist/barber or anyone who shaves
creator: wahl corporation
warranty: 1 year limited manufacturers
rating: 9/10
best place to buy Amazon
Introducing the foil shaver
wahl foil shaver is an electric razor used to remove unwanted hair from the face or head! It offers an on the go shave when you don't have time to wet shave. Coming with an option to recharge the battery you never have to worry about buying batteries for power.
The machine comes with a charging cord, foil shaving head, cutting bar, cleaning brush, and an operators manual. The manual gives you the specifications and care instructions to keep your tool running at its optimal performance
Lightweight and compact in size the wahl foil shaver is easy to grip while giving a comfortable shave. A flat on/off switch against the body completes the design making it not only easy to control but makes operation a breeze.
Using the foil shaver.
The five star can be used corded or cordless! I prefer giving it a good charge and using it cordless. Give me better range!
For best results the face or head to be shaved should be cleansed from ALL dirt or debris. There a two ways to use this machine!
1. Hair shaper
2. Shaving/balding
as a hair shaper use this tool to finish cuts by removing fly aways giving your style a clean polished look!
As a shaver cut the hair to a 5 o'clock shadow (stubble) or s close as you can with trimmers. Prep the area with a pre-shave solution for electric razors. Using little to moderate pressure pass the razor over the skin in a painting motion.
Do not use the razor if the foil is chipped or cracked!
Foil maintenance
The upkeep of all electric tools is very important for longevity purposes.
The foil head is easily removable with the push of a button on the side. The cutting blade is removed with a push down and a turn either way.The brush given is used to knock off all dirt and hairs that are trapped on the cutting bar. Warm soapy water is used to clean the instruments cutting blade and foil. Let air dry and it's ready for the next use!
its recommended to change the cutting bar every 6 months, however it depends on how often it is used will determine this!
Pros v. Cons
Pros:
can be used on all hair types
powerful battery
easy to clean & disassemble
gives a really close shave
Cons:
delicate foil chips or cracks if dropped
claims to give a bump free shave (not for everyone)
Conclusion
I have found the wahl five star foil shaver to be a necessity in my arsenal of tools. It gives a close shave with minimal irritation if used correctly, and it's easy maintain. What I like most about foil shaver is the compact design that sits ever so snug in my hands for easy control!
I have been using this shaver/shaper for about 5 yrs now and it hasn't failed me yet. From shaping loose ends to cleaning an area completely I recommend the purchase of the wahl five star foil shaver!
thank you for reading and I hope this has helped your search.
Shannon Kamal