Shannon kamal
---
The Man:
Name: Shannon Kamal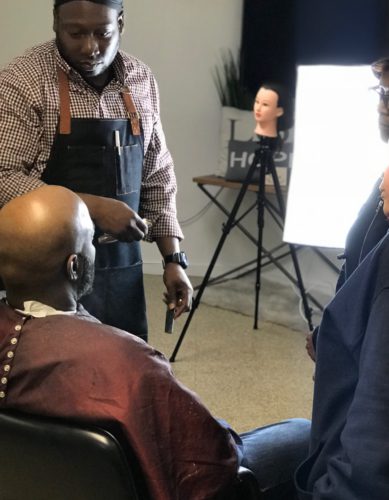 Height: 6 ft even
Yrs pro: 10+
Education: Blaine Beauty career school '04, Mass school of barbering '07
Strengths: Learning/teaching
Weakness: Thermal styling/scheduling
Likes: Challenges/Slow days
Dislikes: Excuses/ Slow days
Favorite service to perform: Wet Shave
Personality: Laid back/Goofy/argumentative
Hobbies: Fishing & building websites
---
The Mission
My goal is to provide the public with quality services that is specifically designed to meet wants with a strict focus on your needs. Hoping to leave everyone satisfied with their service. Although I am not perfect I aim for perfection with each and every guest.
My purpose: is to help eliminate hopelessness in the urban youth ages 15-25 as I volunteer my services to help out a Non-Profit organization in helping proven risk teens find an alternative life choice through barbering. Life is best lived giving unto others who may need it, so this is where I was called to give..
My dream: is to gain as much knowledge in the beauty industry, and pass it on to the next generation of professionals to carry on the industry with excellence in customer service. With a background in education I spent 7 years training future professionals for the standard state board testing exams. Although I am no longer in that arena I still find a need to keep information flowing whether that be passing it along in a private clipper cutting class,  or taking it in at a trade show for licensed professionals. Education keeps the craft alive!
My Plan: Has 2 folds…….1st is to Focus on the consumer who may need tips, and ideas to help to help them find those grooming products to tools needed to assist in at home maintenance in between shop visits while  the 2nd is to be of assistance to anyone looking to start in the beauty field, training to be in the beauty field, or trying to advance in the world of beauty!
I haven't been able to blog as much as I would like due to undisclosed reasons, However those reasons will soon be no longer so from there I will be posting more often keeping content fresh! As I said before I am an educator at heart so if there is anything you would like to talk about or learn just email me @ askshannonkamal.com
For the meantime you can scroll down and take a look at my blogroll The stylist blog
Broken down into just three categories with (I'm sure) more to come!
The educational category: holds information to help guide you through the stages of your career and hopefully give some inspiration. With a subcategory called the 5 series! Here you will find helpful information that I share in 5 various ways through tips, reasons, or just ways of improvement.
Barbershop Talk: This is where the topics range from sports, movies, the news, or different hobbies that exist. Mines are fishing, video games, and website building. You are more than welcome to comment your hobbies for me to discuss as I may find a new hobby
Product review & recommendation: This is pretty self explanatory! I'll be giving you my take on the latest tools, products, and sometime techniques! If you need anything for me to review for you drop a comment below and I will be more than happy to research and review!
---
Now that we got that out of the way  I formally Welcome you to Sophisticated Grooming a place where your presence is valued and appreciated! I plan to bring you the latest, and help you along the way the best to my ability. I pledge to bring you my best in the world of grooming for Men, Women, and kids!
Ways to

reach me

You can catch me Offering services in the Boston area @

Legacy Barber shop

666a Washington st

Dorchester Mass

Although Walk-ins are welcome it's best to schedule an appointment. The phone is the worse way to reach me for a same day appointment, however if you leave a message 48 hrs before you'd like to come in you can be accommodated

The best way to schedule is by booking through facebook for now as I work on finding a provider to offer me booking capabilities.

If you follow my FB, Instagram, or Google social medias you can stay up on my schedule, specials, and the new products that will soon be arriving!

Treat yourself! come in and get a full facial, shampoo, conditioning treatments and more to maintain your everyday look down to that special event! Hope to see you soon and thank you for stopping by.

Here for your Grooming needs,