My toolbox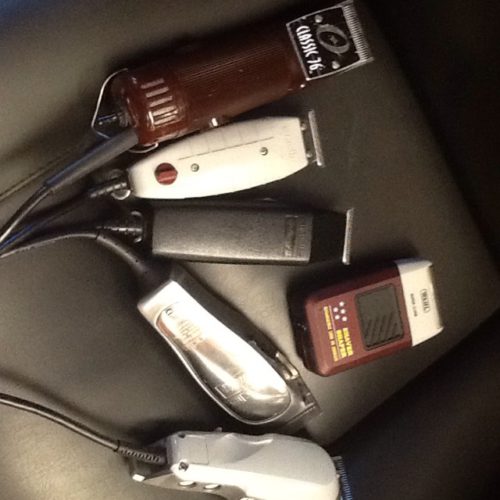 Just like any artists or craftsman, tools play an important role to complete the task set before us. The tools of ta stylist can be A prized possession to be cherished and kept in great shape to perform when called on, When it comes to the tools that I use there is not just one brand that I depend on. I prefer to keep a wide range of brands because they all work wonderful, and gets some jobs done better than others. To give you an idea of what my arsenal contains Here goes my lineup broken down into 3 sections.
The cutting(clippers) section
the detail(trimmers) section, and then
the miscellaneous (brush, combs, and other tools) section.
Each section brings a different set of attributes to the table, but when used together they can create a harmonious masterpiece giving my customers the desired look they are seeking.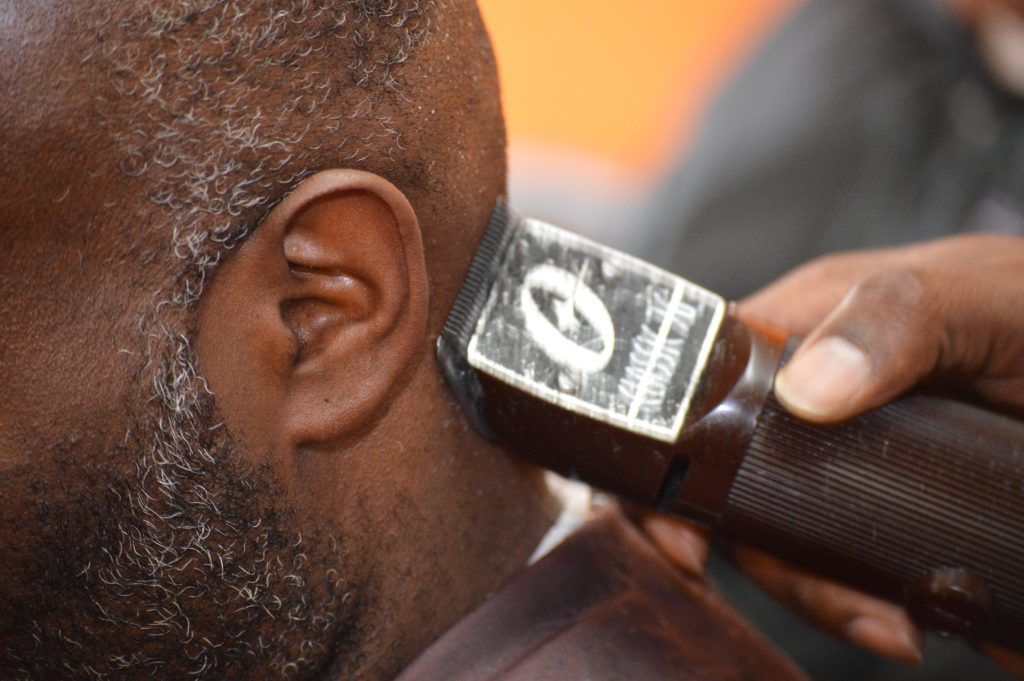 The cutting section
Without clippers it will be nearly impossible to cut hair, and satisfy the demand of today's fashion. Being able to choose from more than one brand picking a clipper will have to come down to, what do you prefer? Having only 2 different kinds (adjustable, detachable) of blades to work with we have to also look at the 3 different types(universal, rotary, magnetic)of motors to choose from.
Some prefer the detachable blade function for its heavy duty cutting capabilities while others prefer the range of execution the adjustable blades offer. Motor choice should be chosen depending on the type of job that's ahead as some hair types need more power than others. Now that we are in the future cordless clippers are on the scene, and a lot are choosing to get rid of the cords to cut with a wider range of freedom.
For my choice, I have been using the same core clippers for the past 10 years and this this includes my detachable blade universal motor machine, down to the magnetic motor with the adjustable blades, and one pivot motor machine that has the most power of the 3!
These machines have been faithful to me and work well enough to allow me to create the most sharp, and balanced look that is requested in today's market.
The preferred lineup
The oster classic 76 universal motor with detachable blades.
The andis Master best for fading.
The wahl senior great all around cutting
The oster fast feed perfect for all around cutting
My 7.5″ Shannon Kamal shears for scissor cuts & cleanups
Cordless clippers are making a splash in the game and I understand totally. Wired tools can get really really hectic with all the tangling of the wires, and keeping them plugged in through all the confusion! so each brand are putting out a set of cordless clippers and trimmers. So as I continue to build my arsenal more reviews on these tools will be sure to come. To find out which clipper may work best for you read my clipper recommendations here.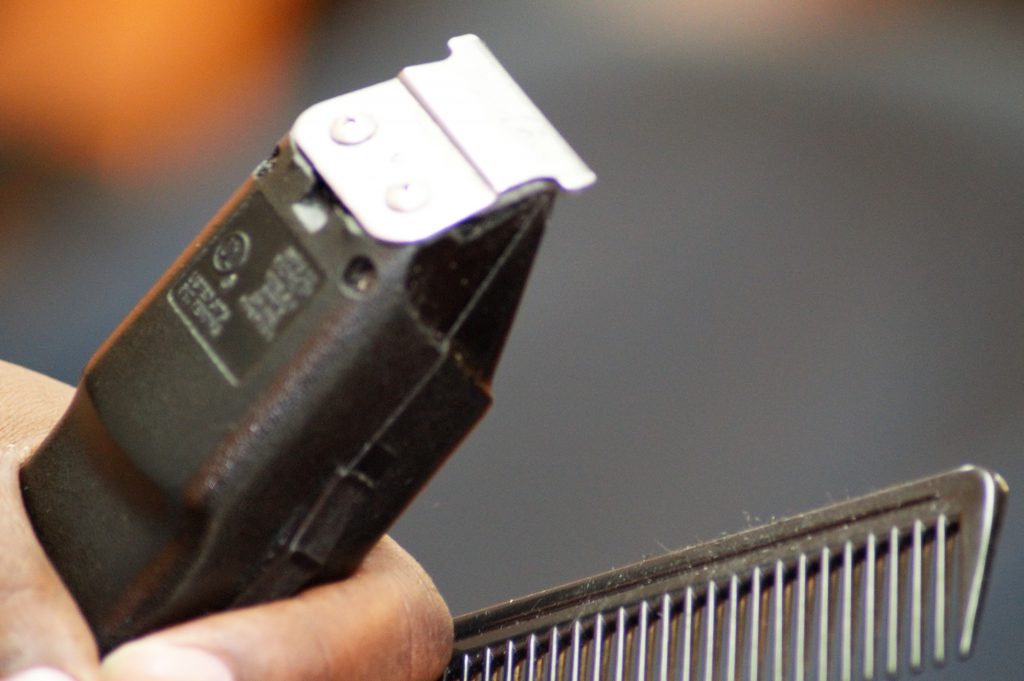 The detail section
There's only one brand of trimmer that I trust and that's the Andis brand! easy to adjust, easy to tune, and they've been around for a very long time. there are other brands that produce trimmers but Its just my opinion that Andis has a far superior product. Some may find this to be untrue, and side with the Wahl or Oster brand of trimmers which is totally fine because it's a matter of preference. Just to be quite honest they all work well to get the job done.
I like to have more than one tool available at any given time to suit certain circumstances. For instance the machines can begin to run hot and become uncomfortable on a clients skin. Having a second or third tool would be wise to swap out during this time. I also keep one trimmer extra sharp while the others are for children and those with sensitive skin.
My trimmer lineup goes as follows:
Andis styliner II the STRONGEST of them all and I keep a sharp blade on them mainly used for rough beards and cleanups!
Andis t outliner which is my favorite of all three because they are the easiest to adjust and get cutting with precision.
And lastly the cordless slimline pro LI. My slimline's are soft enough to use on a child/sensitive skin .
These are my selection of designing tools when I am creating looks for my guest! As my arsenal grows (which it will because I love tools) I'll be bringing you the reviews to give you a heads up on what to expect before you purchase.
The control section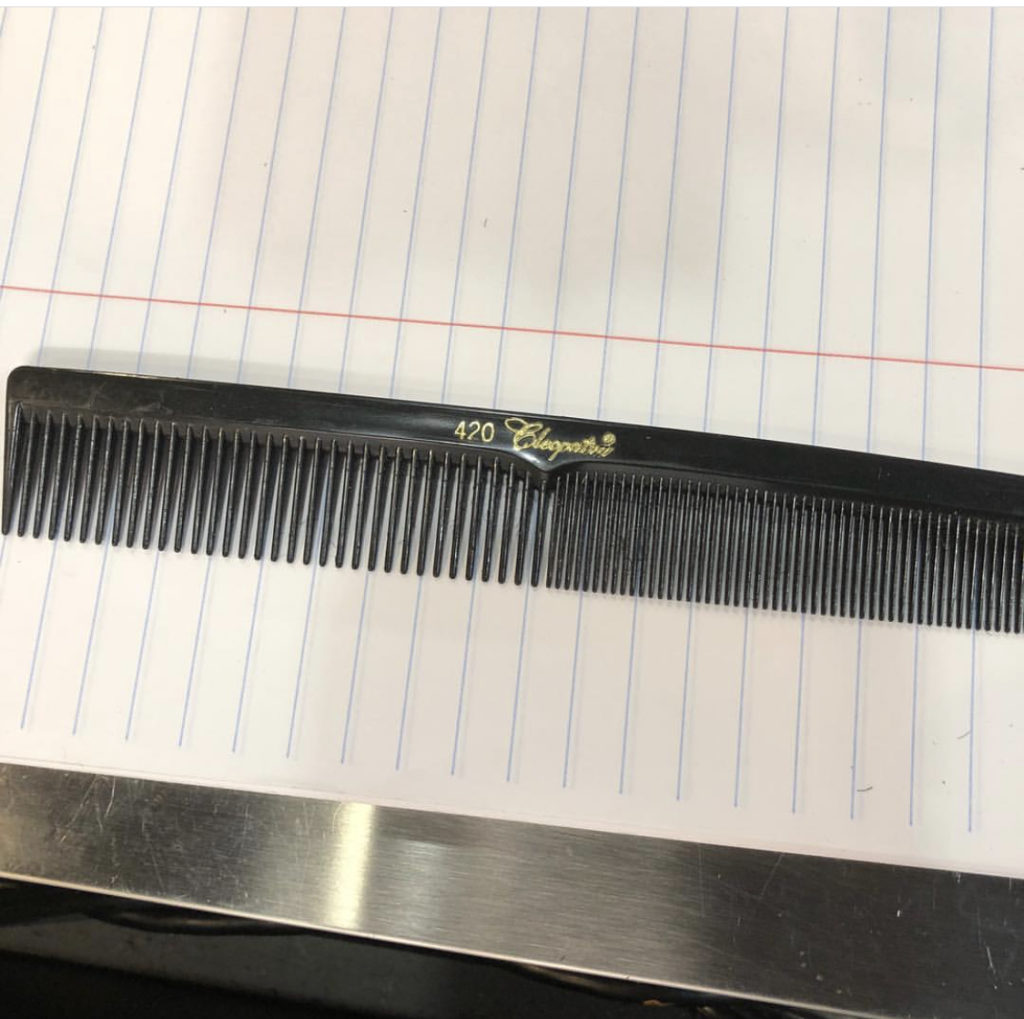 It would be hard for a chef to cook a meal in the finest cookware without the necessary spoons, fork, and knives to prepare the food. How would the pancake flip to cook the other side? Would it be easier to ladel a bowl a soup or pour from the pot? Catch my drift!
So for the stylist it would be hard to create styles without a comb, brush, hair pick, or any other tool used to control the hair. Controlling the hair is vital when creating blended styles or even when designing the simple uniform haircut. A deeper explanation of control can be explained by reading my 3 c's of cutting.
My choice of controllers would be:
The barber comb has a tapered end to it just to get close clean tapers with the shear over comb technique. I also possess the almighty Krest 420 combs which in my opinion is the best comb for slicing the hair when performing a scissor cut.
My brushes have to be made of or at least contain boar bristle for me to use. Boar bristle is best for distributing oils through out the hair from roots to ends. All the while loosening dirt from the scalp to prepare it for a shampoo.
Hair clips are used to keep the hair out of the way when working in a certain section. Here I have no preference because whatever gets the hair out of the way will do. However, what's hot right now are velcro grips which have a side the slides up the hair to keep it in place. I haven't used one yet but they are next on my list of toys to try out. As soon as I get those you'll be the first I share it with!
And Finally
I heard someone say "when a barber has a bunch of tools he has yet to understand what his tools can do" I respectfully disagree with my own saying. You can never have too many tools if you love your craft!
Now of course you will have your go to weapons, but there is absolutely nothing wrong with building an arsenal of tools. What do you prefer to use? Have you had any bad experiences with a certain tools? Which tool have you found to be the worst, or vice versa? Leave your comment below to answer or give me your choice of tools to work with!
We all have preferences and we all should enjoy grooming, or getting groomed!
Have a question or comment? Will be happy to hear from you so leave your comments below!
And i'm out
Shannon Kamal