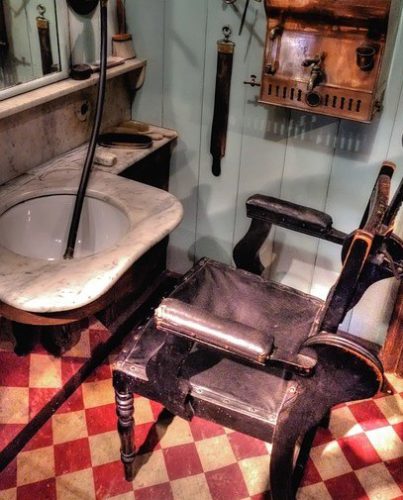 With the new year just underway now is the time to evaluate the past year and figure out where you need to improve, or what you should keep doing. Every business should place the importance in getting bigger. The only way to ensure you will be open for years to come is to make sure your business Is growing. How much is your clientele on the rise, or are you servicing the same head over and over again. You'll never be able to set up any type of retirement this way because you will never be able to get ahead in savings. Life happens and you have to take time for vacations so how much can yiu do without a growing business?
Taking on more work means we must begin marketing our skills for the public to come visit us for services. There are multiple ways in creating growth when building a book, and I'm sure you may have plenty ideas in doing so. Taking a look over my last year I asked myself… How are you setting yourself apart? My goal is to be better this upcoming year, and this is what I've come up with to do so. First I am going to take inventory, you don't know where you are going if you don't know where you've been. Set some goals by breaking down the year into quarters giving yourself enough time to accomplish them. Goals without a plan are just dreams, the best way to achieve these can be done by writing out a plan. Leave a comment sharing with me the ways you will set yourself apart.
Evaluate your journey?
Take a look back on your year to examine the approach you have been taking to run your operation. What was your average of people you've seen on a weekly/monthly basis? Were there any increase of guest for services? Do you even keep a
register to track the flow of traffic? If you aren't keeping records then this is a clear indication that the next coming year a register will serve purpose to keep an eye on how many services are just being done. This will also reveal where your busy spots are compared to your slow spots, making it easier to pinpoint the best times to run specials, or offer discounts.
Are you selling retail products for your customers to purchase? Before leaving the site be sure to read the 5 reasons why you be featuring a professional product line in your shop. That article explains why you should be selling products on a regular basis.
Let's assume you are already stocked with some sort of product in your retail case, and you are familiar with selling. What month were you a rock star/dud? Keep in mind that there will always be highs and lows with retail so find ways to market for a steady influx of sales.
Did you track your goals?
What were your goals If any at all? Without goals, you are aimlessly sailing at sea with no wind in your sails. Grab a calendar and break down the year into four quarters. From January to march that will be your first quarter. What do you want to accomplish in that first quarter?
Whatever that may be log it down in your calendar exactly where you want to complete this task. Get your campaign for Valentines day complete by the last week in January and ready to run by the first of February. If you go to any local drug store you will see the valentines' setup already in motion. You should be doing the same with your approach get some packages together to begin promoting, and selling? This can actually begin to help grow your book which in turn will grow your savings.
Create a plan?
What are goals without a plan to reach them? Anything that isn't written down can just be considered as a thought, or a
dream. Begin to create a daily task sheet to work on making your goals much easier to accomplish by taking consistent action on small jobs to complete that big job.
Here are some examples to look at…..
The goal is to add 5 new customers to your book by the end of the month (remember to aim high) your task sheet should contain:
Pass out your card to 10 new people per day. This may require some footwork but that's OK the reward will be well worth it.
Come up with a referral program. Use your customers to bring in more customers by offering discounts to those who bringing a new referral
Learn a new service to offer your guest. Sometimes all it takes is a new service to get a buzz going.
Can you think of any goals, you'd like to crush for 2019? What are they, and how do you plan to reach them? Leave your comment below!!
Stay consistent?
You can only get results by staying consistent, and working at reaching your goals every day will get you closer to the results you seek. The saying goes that the quickest way from point A to point B is a straight line. Trust the process, and keep working towards what it is that you want to accomplish.
The only way Mr. Olympia can compete as a bodybuilder is by working out on a DAILY basis anytime he is slacking he will lose ground on the competition. Every day, you have to keep passing out cards, promoting your services, and completing all the work on your daily task sheet. Make sure you set the bar high to reach to ensure you are pushing yourself to your full potential.
Time management plays a huge role in consistency when trying to make your goals. Work on your goals early in the day so that you don't run out of time leaving your sheet incomplete. Put down the Facebook, turn off the Maury, and leave the YouTube for later when your work is complete. Consistency is key to growing so keep moving forward to the finish line.
In closing
Its important to understand that people are entering the beauty field every day. And everyday someone is looking for a place to get groomed. What will you do to set yourself apart from those that you are in competition with? Will you start keeping track of the customers that enter your establishment? Create goals to accomplish this upcoming year setting the bar high, and pushing yourself to the limit. Create a plan to reach those goals, and consistently work on those goals. Use the different platforms out there to put yourself out there. Study the competition to find a way that you can be better at marketing and promotions. Social media platforms such as Facebook, or Instagram is a great way to do this making your marketing efforts a little easier, and a lot cheaper. The year is underway and what are you doing to set yourself apart? Leave your comments below with your plans to make this happen.